Great taste of food with geniune decorations and only a few minutes. If you ever struggle to come up with…
It looks so elegant that everyone thinks I spent a lot of time on this roast. But it's actually so…
Musicians are there in front of you, and the spectators sense their tension, which is not the case when you're…
WHAT WE OFER
The largest food network. Search, watch, and cook every single Tasty recipe and video ever !
Online party booking allows customers to book events, 24/7. They can choose a package.
Coffee has given me unrealistic expectations of productivity. when I wake up, I get coffee.
BEST GRILLED STEAK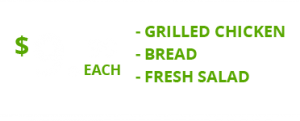 If more of us valued food and cheer and song above hoarded gold, it would be a merrier world. Food is everything we are. It's an extension of nationalist feeling, ethnic feeling, your personal history, your province, your region, your tribe, your grandma. It's inseparable from those from the get-go.
SPECIAL TIPS & RECIPES
I would rather sit on a pumpkin and have it all to myself, than be crowded on a velvet cushion. I love the scents of winter. For me, the feeling you get when you smell pumpkin spice.
Let it first blossom, then bear fruit, then ripen. Life without love is like a tree without blossoms or fruit. The smallest seed of faith is better than the largest fruit of happiness.
Small farms grew vegetables and raised livestock using organic farming practices, with or without certification, and the individual consumer monitored.